---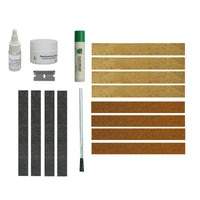 ***Requires Contact Cement for Installation (not included)
This kit comes with (4) new, composite tenon corks and (4) new, natural tenon corks. All of the corks have a beveled edge.  Three are for the clarinet joints, the fourth can be used for the mouthpiece, or as an extra cork for a tenon joint. One razor blade, one tube of Instrument Clinic Premium Cork Grease, one contact cement brush, (1) .15oz bottle of key oil, (1) .25oz jar of key polish, (4) sandpaper strips and written instructions are also included. 
Many musicians prefer composite cork for marching band or student instruments and natural cork for more expensive instruments or those that will be used primarily indoors.  With this kit you can choose the desired cork and use the other to practice the installation, as it does take some practice for a perfect install.
Please note: You will also need Contact Cement, a Ruler, Household pliers, Mineral spirits, or Soap and Water, a Small Screwdriver, and a Cotton Ball or Rag.
*Installation requires contact cement.  A one ounce tube will be more than enough.  It can be purchased at most Dollar stores, Walmart and many other retailers.  Be sure to use a non-water based contact cement, such as Weldwood, Super Glue Brand (not super glue adhesive, but Super Glue brand contact cement).